"Lingerie is one of the most important pieces of your wardrobe. You can have a wardrobe malfunction if you don't choose the right thing to wear underneath"
Adriana Lima
And who knows better about the importance of lingerie than a Victoria's Angel?
On Tuesday it was
Myla's
15th Birthday party and so in celebration they were throwing a bit of a party. Drinks, cake, music, it's like any other birthday party really- except maybe a bit sexier. So much sexier.
Heading in we sipped on cocktails and champagne. Mine had to be Johnnie Walker. I've got a love affair going on right now with them. Seriously, girls, this ones for you. Mix with lime and elderflower and its a sweet, sweet cocktail.
All around us, mingling in and out were lingerie glad beauties. We got a sneak peak at Myla's Spring 15 collection which was draped on the models. If you fall in love with it, it's on sale in January.
Myla are know for their exquisite detailing and touches of luxury, and I can only go and say I think they have excelled themselves here, It was just perfect.
The designers themselves. Round of applause for the ladies!
This ones mine! I'm just in love.
After I'd enough time eye balling the models, I mean lingerie, it was time to get dressed ready for spring.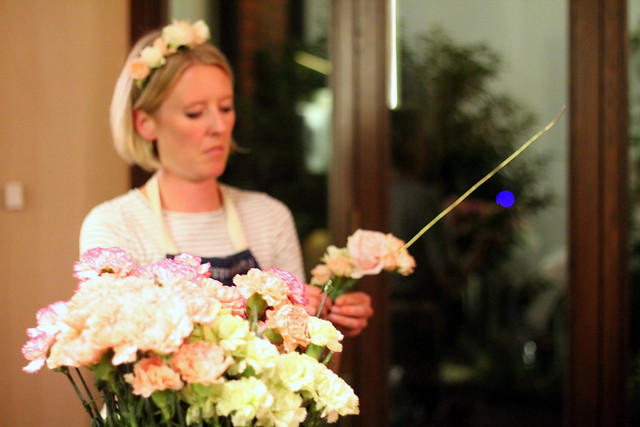 Do I make a good hippy love child?
Flowers securely pinned in, it was time to get this party started! Hit it Laura Whitmore!
Sorry can I just say, wow to these two?! I'm practically intimidated by how frigging gorgeous they are. Some people get all the genes.
Of course no party would be complete without a photobooth.
Except this ones a little bit special. How would you fancy winning a photo shoot with only award winning master photographer Rankin? Err hell yes! I could give those models a run for my money then!
Well my friends, the photo booth is travelling around London's bars, with it currently in
Steam and Rye
. Hop in, take some KK worthy selfies and upload to Instagram with the #goldcelebration
Well you got to be in it to win it, so here's mine.
Of course I was right royally out done by the models.
Clearly they didn't want me to join in.
We danced, and drank like it was our best friends birthday. It would be rude not to show the birthday girl a good time after all.
Late, I stepped outside for my taxi, a hoard of paparazzi outside waiting to pounce- only for them to sign and put their cameras away. Shot down eh! Well I know some men who won't shoot me down later. Mr Ben & Jerrys. Take that Papz.